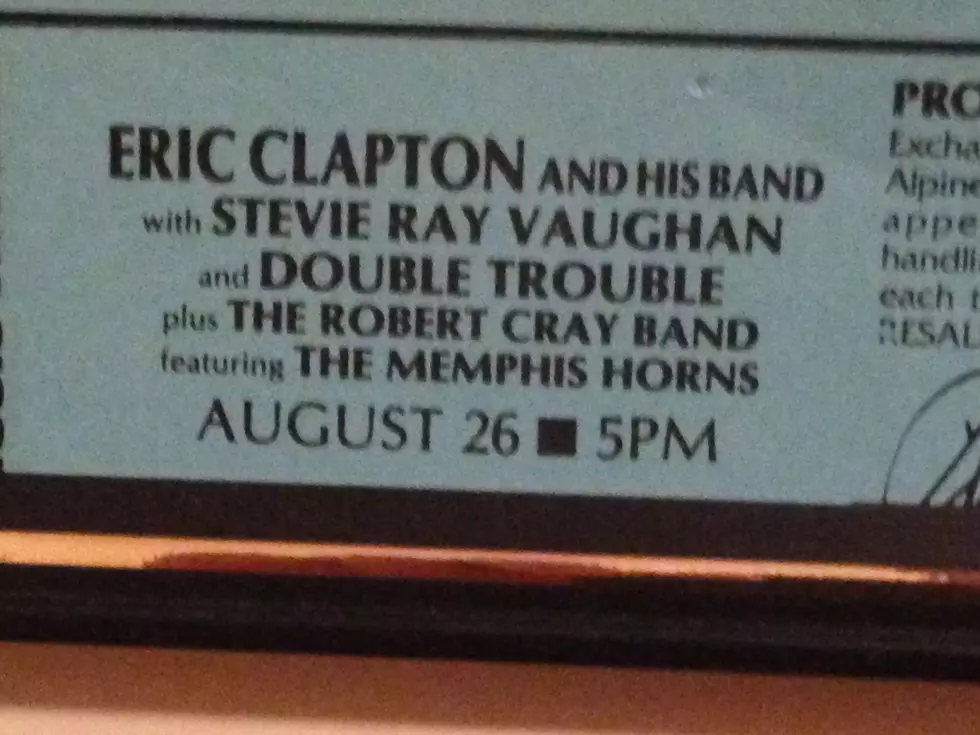 30 Years Ago: The Night Stevie Ray Vaughan Died
G. Perry/Townsquare Media
In the early hours of August 27th, 1990, after performing at Alpine Valley the night of the 26th, Stevie Ray Vaughan boarded a helicopter with some of Eric Clapton's associates, which crashed in to a mountain in the fog just outside East Troy, Wisconsin ... killing everyone on board.

I remember the next morning in my office at 97X, hearing the first reports that Eric Clapton had died in the crash... then later the story changed after crews were finally able to locate the crash site and get to it to identify the victims. That was a horrible day. I had just interviewed Stevie on 97X a week before the show. He asked if I was comin' up there for it... I told him I wanted to but wasn't sure.
The picture below is from the unused ticket voucher that sits in the frame with my favorite picture of Stevie and me, taken here in Davenport.
Of all the musicians I had ever met, known, interviewed, partied with, or anything else, I really did feel like I had a bit of a friendship with Stevie.  I first met him in San Antonio at a "Final Concert" at a local theatre. He was genuine and seemed to have almost no ego.  My first major 97X concert event here in the Quad Cities was Stevie Ray, Greg Allman, and Steppenwolf on the levee in Davenport in '88.  (Were you one of the 12,000 people there that night? It was an awesome show!)  And then my last conversation with him before the Alpine show started off with him asking how my girlfriend was... nobody else has ever done that.
I don't get many "takers" when I talk about Stevie being the best guitarist I've ever seen ... could be that it's more personal to me.  But if you ever DID see him in concert, you'd have to agree that his death at age 35 was one of those tragic and unexplainable "robberies" for the rock and roll world.  So today, SRV fans, I put on "Lenny" and I salute you.
Enter your number to get our free mobile app
KEEP READING: 10 classic board games that will take you way back