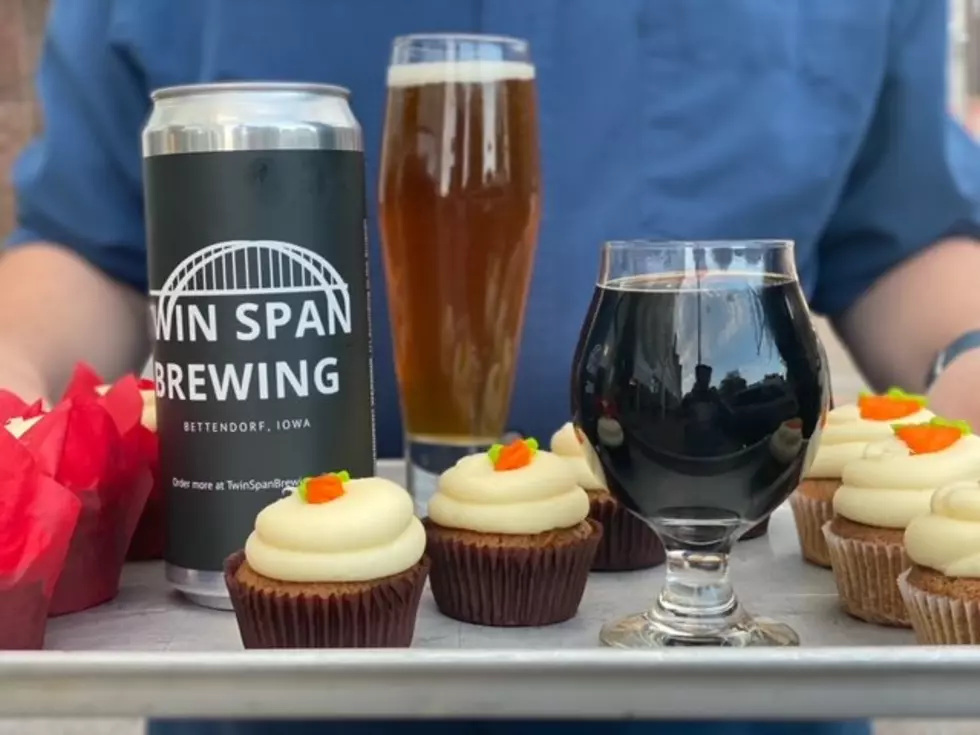 Beer & Cupcake Pairing? Yes, Please!
credit: Tiphanie Cannon
In the past, I have been on the receiving end of a lot of crap regarding my penchant for eating sweet stuff while pounding beers.  For some, these two things shall not mix.  For me...it's 2 great tastes that go great together.
Beer & birthday cake is my favorite.  Either because I'm a year older or I am mandated to be at a birthday party...beer is a helpful tool.
Twin Span Brewing is hosting this double threat event this Monday, October 26th at 7pm.  They have paired some of their delicious beers with some sweet treats from Oh So Sweet by Tiphanie!
I reached out to Tiphanie Cannon to ask more about this event.
Do you know people that are against beer/sweets or is that just my circle?
Personally I do not know anybody who's against beer/sweets. All of my friends love beer and they also love sweets. If nobody in your circle likes beer and/or sweets then I suggest finding a new circle. Just sayin...
Why do you believe them to be that way?
Beer and cupcakes are best paired together not for any particular reason other than people love to drink beer and people also love to eat cupcakes. Honestly, we kinda just made up the idea up. So why try the two together? No harm no foul!
Is this event created specifically to sway their opinion?
The event was created for people to have a fun, slightly gluttonous night. But if we manage to sway your friends' opinions about beer and cupcakes being served together, then that's jus the icing on the proverbial cake!
Whose idea was this and can did they have more cupcakes or beers in their system?
The idea for the beer and cupcake tasting came from Adam, the owner and brewmaster at Twinspan Brewing company. And he for sure had more beer in his system than cupcakes. In fact, have you ever met a brewmaster who DIDN'T have beer in their system?????
Are there any other types of sweets or baked goods that pair well with beer?
I think that bread and pretzels also pair well with beer. Cookies do too though. I think I'm the wrong girl to ask because I'll literally eat and drink just about anything.
Specifically, about event…tell me what beers…what cupcakes and any other fun stuff involved.
Adam (the drunk brewmaster from Twinspan behind the idea) wanted to make beers that are inspired by Halloween candy or popular treats.

 

First off he made a Caramel Apple beer. It's a Liffey with caramel syrup and apple added to taste like those caramel apple lollipops that everyone had as a kid. It's crispy and has a fresh apple edge to it. We of course are pairing a fall spice cupcake, topped with fresh sautéed apples and vanilla buttercream.

 

The second beer he made was Pumpkin Pylon. It tastes like Pumpkin Pie. To go with that, we made a Pumpkin Pie cupcake. We took a homemade graham cracker crust, pumpkin cupcake, and topped it with cream cheese frosting.

 

Adam also made a Chocolate Peanut Butter cup stout, to which we're that with a chocolate peanut butter cupcake!

 

And lastly, he made a Sour Patch Kid beer. And we're pairing that with a fresh cherry lime cupcake.
Tell me about Oh So Sweet by Tiphanie. How long have you been doing this? Where do the inspirations for the recipes come from?
Oh So Sweet has been here for almost 7 years now! And we're still going strong!
What would you like people to know about your business and how do they find you? 
The main thing I would like people of the QC to know about Oh So Sweet is how grateful we are to the community for their support through out this crazy year. We literally wouldn't be here without them.

 

They can find us at www.ohsosweetbytiphanie.com or they can download the Oh So Sweet by Tiphanie app. Or they can find us on Instagram or Facebook @ Oh So Sweet by Tiphanie