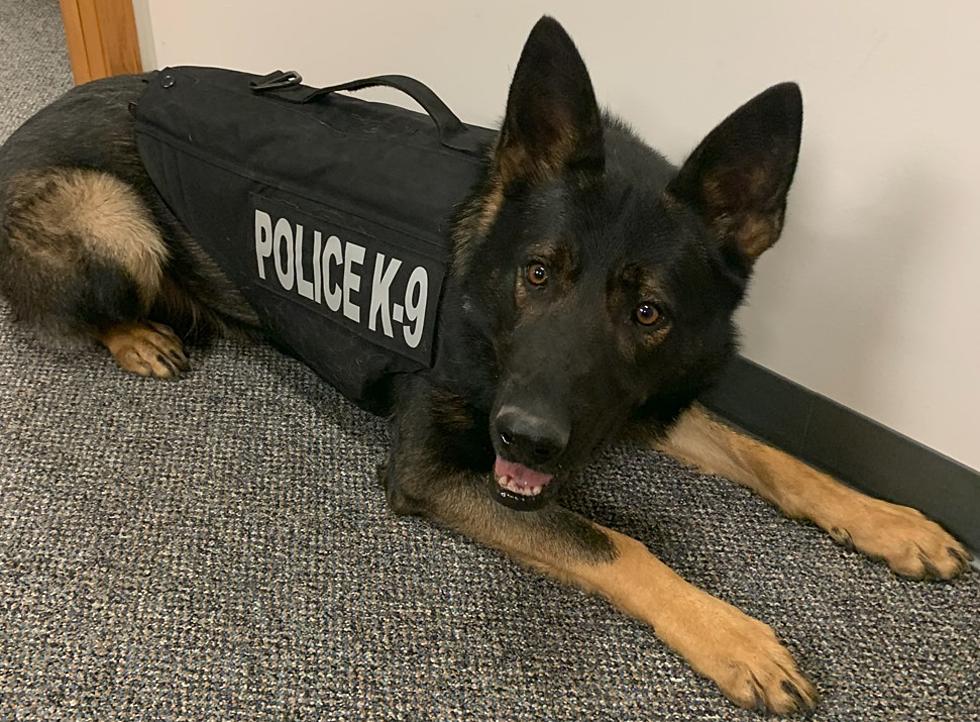 Clinton Police Encourages Kids To Enter K9 Griz Valentine's Day Card Contest
Clinton Police Department via Facebook
Who doesn't love a good Valentine's Day card? The Clinton Police Department is giving grade-school kids the chance to color their own Valentine's Day card this year that features a photo of a favorite Clinton Police officer. The K9 Griz Valentine's Day contest put on by the Clinton Police Department is up and is also giving Clinton kiddos a chance to win prizes from local businesses.
On Tuesday, officials from the Clinton Police Department announced that they are giving kids in the city of Clinton a chance to create their own Valentine's Day card for a chance to win prizes from local businesses. They have started their 2022 K9 Griz Valentine's Day Card Contest which encourages kids to color a Valentine's Day card that features K9 Griz, a police dog with the department.
Clinton Police officials say this contest is open to children from pre-kindergarten to 5th grade. Those kids, with the help of their parent(s)/guardian, can print off the K-9 Griz Valentine's Day card and color it however they want.
Coloring the 2022 K9 Griz Valentine's Day card isn't just for fun. This also gives these kiddos in the Clinton area a chance to win prizes from these local businesses listed below:
Sweet Heart Bakery
Clinton LumberKings
Deanna's Java Café
Happy Joe's in Clinton
Pizza Ranch of Clinton.
Contest Rules
Starting Tuesday, February 1st, through Wednesday, February 15th, children can print the K9 Griz Valentine's Day card (which you can find by clicking here) and color the card however they would like. This contest is for children from the surrounding area in grades Pre-K through 5th grade (one submission per child).
There will be one winner per grade with the winners to be announced the following week after Valentine's Day. Winners will be selected by the following judges from the Clinton community:
Mayor Scott Maddasion
Chief Kevin Gyrion
Deputy Chief James Ballauer
K-9 Griz
Information Needed
On the back of the K-9 Griz Valentines Day Card, the Clinton Police ask that the following information be listed:
First name of child and guardian's name.
Child's Grade
Child's School
Phone Number
Address
Email Address
Submit Valentine's Day Card
The completed K9 Griz Valentine's Day cards can be submitted by mail or dropped off at:
Attn: K-9 Griz Valentines Day Contest
113 6th Ave S
Clinton, IA 52732
K9 Griz Valentine's Day cards can be dropped off and picked up at the following locations:
Happy Joe's - 408 S 1st, Clinton, IA
Pizza Ranch - 1347 11St NW, Clinton, IA
Sweetheart Bakery - 241 Main Ave, Clinton, IA
The Quad Cities 10 Most Romantic Restaurants
Any place can be romantic if you make it that way. But, if you are looking to wine and dine and romance the spouse, these are the top 10 places to do it in the Quad Cities according to Yelp.
LOOK: The most famous actress born the same year as you
Many of the actresses in this story not only made a name for themselves through their collection of iconic performances, but also through the selfless, philanthropic nature with which many of them approached their stardom. In an age of flipping the script on societal norms, many of these actresses are using their voices and platforms to be advocates for those who are otherwise unheard.