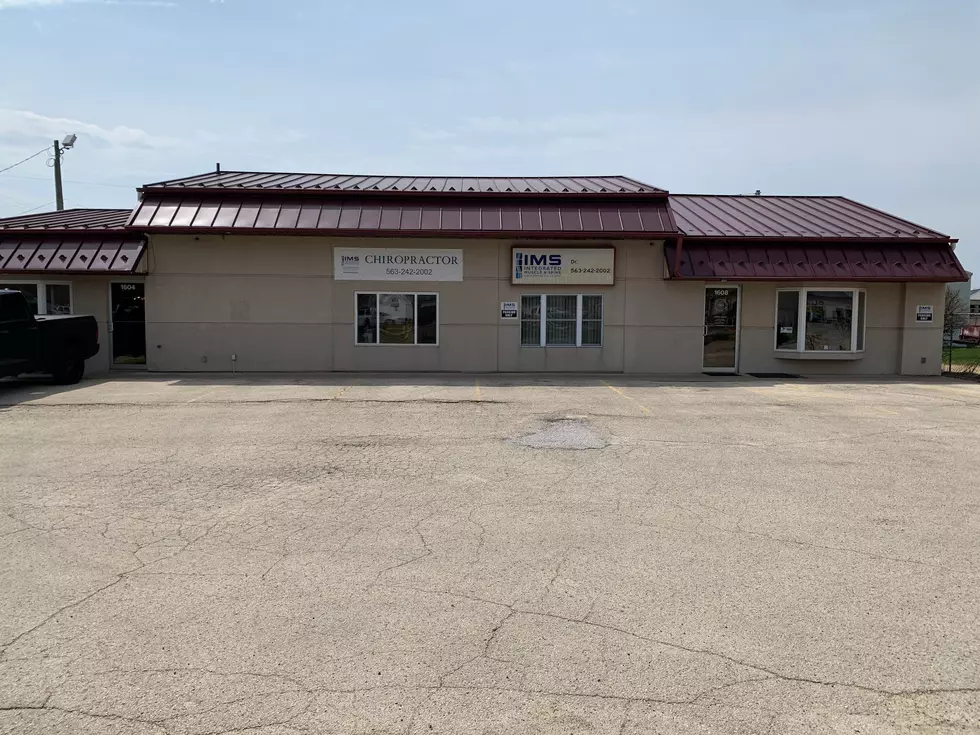 A Clinton Chiropractic Clinic Adjusts Owners, Grand Re-Opening Saturday
Integrated Muscle and Spine Chiropractic Clinic
A chiropractic clinic in Clinton is getting ready to celebrate a new era in the business after an adjustment was made at the owner level. The new owner of Integrated Muscle and Spine Chiropractic Clinic is hosting a grand re-opening this Saturday and she plans to have food, local vendors, prizes, and more.
There is a new owner at Integrated Muscle and Spine Chiropractic Clinic (1608 S 19th St) in Clinton and she is inviting everyone to come to celebrate a new era in the business.
Dr. Kortni Richards, who graduated from Palmer College of Chiropractic in October 2020, bought  Integrated Muscle and Spine Chiropractic Clinic (IMS Chiropractic) from Dr. S. Cody Woodward on February 1, 2022. Since then, she has been making improvements to the bones of the building while treating current and new patients.
Dr. Kortni, her fiance, and friends have helped update the patient waiting room, made the front desk more accessible for patients in wheelchairs, and given IMS Chiropractic a new, modern look. To celebrate their hard work with the revelations and Dr. Kortni's new ownership, and to show people what she has planned for the future, IMS Chiropractic is hosting a re-grand opening this Saturday, May 21, 2022, and everyone is welcome to join in on the celebration.
Integrated Muscle and Spine Chiropractic Clinic's grand re-opening this Saturday will be from 11 a.m. to 2 p.m.
During the grand re-opening, Dr. Kortni will be giving away prizes, swag, free adjustment coupons, and more. Upon arrival, everyone will receive a free adjustment coupon (new patient exam not included) and a raffle ticket. You can purchase additional raffle tickets for $1 per ticket and the proceeds will go to a local charity. Those raffle tickets will let you win prizes including:
IMS Chiropractic swag (hats, t-shirts)
Free Acupuncture & Cupping Sessions (when they become available)
Lumberkings Tickets for the July 5th game
Citizens First Bank prizes
And more!
There will also be a balloon dart game to win prizes from and corn hole to play while enjoying IMS Chiropractic's grand re-opening. Make sure you come hungry because Dr. Kortni will be serving up burgers and brats plus other goodies.
Essential Coffee, Clinton's newest coffee truck, will be there to serve coffee, tea, and the other delicious drinks people crave. Alex Laufenberg, the owner of Essential Coffee, is throwing in a prize for the raffle as well.
Congratulations to Dr. Kortni on her grand re-opening of the Integrated Muscle and Spine Chiropractic Clinic in Clinton. Let her know if you are attending by hitting the RSVP button on the Facebook event page.
Iowa's Island City
There is something unique about every town, but there is really something special about Sabula, IA. Known as "Iowa's Island City," Sabula is the only town in the state of Iowa that is entirely on an island. While not a lot of people have been to, or live in Sabula, it is a quaint little town nestled right on the Mississippi River.
Before we show you around "Iowa's Island City," let me give you the history of Sabula. Sabula was established in 1835,
according History of Jackson County, Iowa, Volume 1 by James Whitcomb Ellis.
Isaac Dorman and a man named Hinkley crossed the river from the Illinois side on a log and decided to settle on what is now Sabula. An Ohio couple, James and Margaret Woods would settle on Sabula about a year later in April of 1836. Their son, Dr. E. A. Woods would purchase Hinkley's interest in the claim. Charles Swan and W. H. Brown would soon purchase Dorman's interest. The three men, Woods, Swan and Brown later had the land plotted in 1837.
According to Island City Harbor's website
, Sabula went through a few names before landing on the official town name. In 1837, Sabula was first called Carrollport. Residents of the town didn't like the name because there was a man's name who was Carroll who had a bad reputation. The town changed its name to Charleston, after early settler Charles Swan. The only issue was that there was already a town called Charleston in Iowa which caused much confusion.
Sabula did not actually become an island until 1939. According to Wikipedia, in the 1930's, the Army Corps of Engineers constructed the lock and dam system. In 1939, Lock and Dam No. 13 between Clinton, IA and Fulton, IL was built which caused the bottomlands west of the town permanently flooded. With the Mississippi River east of the town, this created the "Island City." A levee was built around Sabula in 1957 for protection,
according to Island City Harbor's website
. This also allowed for the south sand pit to be turned into a boat harbor.
I would like to thank my mom Beth, her fiancé Matt, my brother Nolan and my wife Ellie for accompanying me to Sabula. We always have a blast on our trips and this one was no exception.
It's now time to introduce you to Sabula, Iowa, Iowa's Island City.
RANKED: Here are the most popular national parks
To determine the most popular national parks in the United States, 
Stacker
 compiled data from the 
National Park Service
 on the number of recreational visits each site had in 2020. Keep reading to discover the 50 most popular national parks in the United States, in reverse order from #50 to #1. And be sure to check with individuals parks before you visit to find out about ongoing, pandemic-related safety precautions at 
www.nps.gov/coronavirus
.