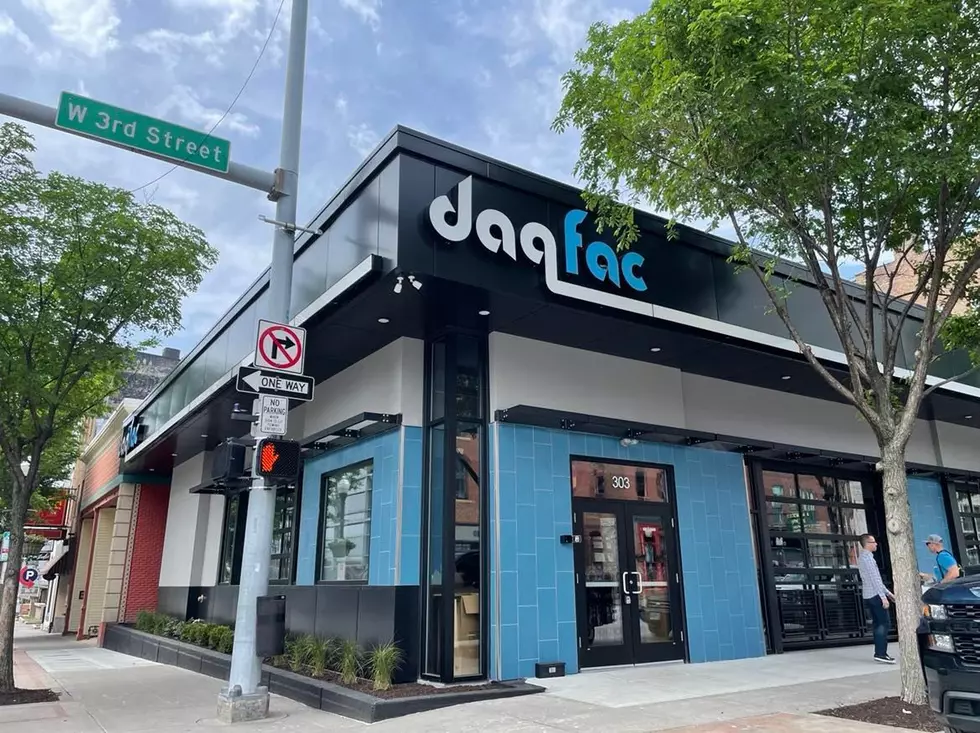 Daiquiri Factory Celebrates First Year In Downtown Davenport
Connor Kenney/The Daiquiri Factory
It's hard to believe that a year has passed since the Daiquiri Factory opened its doors in downtown Davenport. For the past 365 days, people have had a chance to enjoy the daiquiris they love, a great food menu, music, awesome service, and a very welcoming atmosphere.
The Daiquiri Factory is celebrating its first year of being at its new location at the corner of 3rd St. and Harrison St. in Davenport. In that spirit, the DaqFac will celebrate the milestone all weekend with live music, an updated menu, and all of our favorite frozen concoctions
While the Daiquiri Factory is new to Davenport but not the Quad Cities, well-deserved congratulations are in order for the owner and its staff to celebrate its first anniversary in Davenport and 19 years in the QC.
Happy Anniversary, Daiquiri Factory!
What an exciting and fun year it has been for the Daiquiri Factory at its new location in downtown Davenport. Today, May 19th, 2023, owner Kyle Peters and his incredible staff are celebrating a major milestone in a post-pandemic world.
This milestone marks a year of exceptional growth, community support, and unforgettable experiences in the heart of downtown Davenport. The Daiquiri Factory opened its doors in its new location in downtown Davenport (303 W 3rd St) and hasn't looked back.
The DaqFac has called the QC home for 19 years originally opening in the District of Rock Island. Talking about the celebration of its first year in Davenport, owner Kyle Peters had this to say,
"This one year has been 19 years in the making. It's been a wild ride of brain-freezing bliss, where the good times flow like the rum in our glasses. So grab your crew, raise your cups, and let's toast to the ultimate oasis of frozen fun. Cheers to one year of epic daquiri adventures at the DaqFac, where every sip takes you on a flavor-packed journey to paradise! Rage On!"
Kyle and his team took the former Shenannigans building which was an eyesore for quite a while and quickly turned it into a beloved establishment in the heart of Davenport. The anniversary celebration represents a significant achievement for the entire Daiquiri Factory team, who have worked tirelessly to create a unique and unforgettable experience for their valued patrons.
1st Anniversary Calls For Celebrations & Updated Menu
To commemorate this special occasion, Daiquiri Factory is launching an updated menu featuring burgers, flatbreads, and street tacos to go along with its renowned daiquiris.
This Saturday, May 20th Eli Traum Music will be performing starting at 7 p.m. to kick off the celebration. DJ Frost will keep the party raging from 10 p.m. to 2 a.m.
We want to thank Kyle for letting us host numerous B100 Happy Hours and our live drawing fiesta this Saturday for the B100 Trip to Mexico. I know my friends and family have had a blast every time we've been to DaqFac's new location in Davenport over the past year.
Congrats, Daiquiri Factory on your 1st anniversary in Davenport! Thanks for calling the Quad Cities home.
EXCLUSIVE: Take A Look Inside The New Daiquiri Factory In Davenport
The Daiquiri Factory is opening up its new location in downtown Davenport on Thursday, May 19th, 2022. We got an exclusive sneak peek inside the DaqFac's new location and Davenport's soon-to-be hottest spot for drinks and food.
10 Ways To Beat Pollen Allergies
Those who struggle with pollen allergies know the struggle can be real. Runny noses, watery eyes, and pure misery are just some of the things that come with pollen allergies. Whether it's fall or spring in the Quad Cities, these 10 remedies can help combat those allergies and make you feel a lot better.