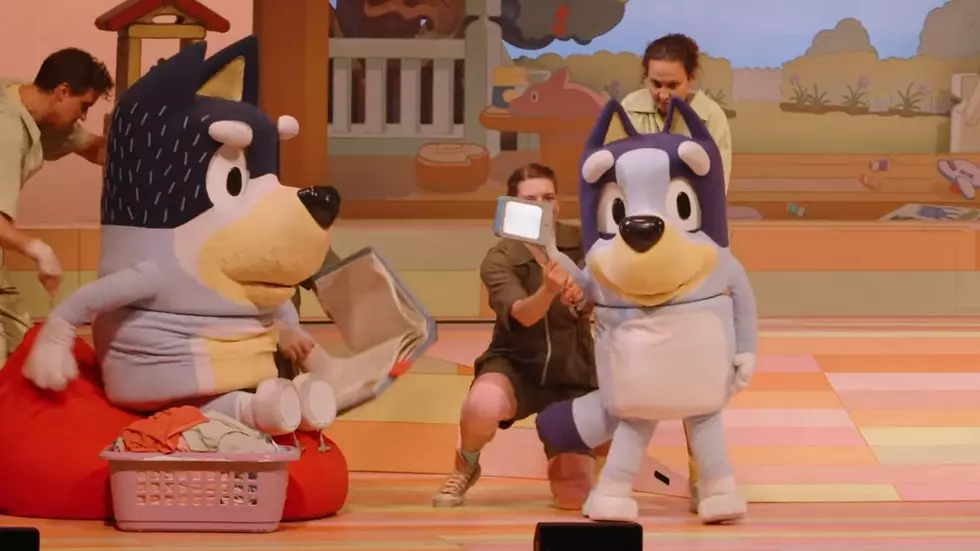 One Of Disney Junior's Most Popular Character Is Coming To Davenport
The Kennedy Center via YouTube
American kids have been talking in British and Australian accents recently thanks to two cartoons. Peppa Pig is responsible for the British accent and Bluey is responsible for the Aussie accent. Kids in the Quad Cities will be able to yell in their Aussie accents at the Adler Theatre in 2023 as Bluey's Big Play makes a stop in Davenport.
Named one of Australia's biggest exports since The Wiggles, Bluey has taken over American televisions to entertain kiddos across the country. The phenomenon that is Bluey has kids in America talking in an Aussie accent. Parents have taken to social media to describe their kids doing the accent and using words from the Australian vocabulary.
Bluey became a hit when it began premiering on the Disney Channel, Disney Junior, and Disney+ in September 2019. Since then, Bluey has been the go-to show for kids and a constant sound in the heads of parents.
If your child in the Quad Cities is a huge Bluey fan, then this is really exciting news for them. Bluey's Big Play is coming to the Adler Theatre in Davenport in 2023!
Bluey's Big Play is a brand-new theatrical adaptation of the Emmy® award-winning children's television series. Bluey's Big Play comes with an original story by Bluey creator Joe Brumm, and new music by Bluey composer, Joff Bush.
Kids in the Quad Cities can join the Heelers in their first live theatre show which features brilliantly created puppets. You've seen Bluey on television, but this is Bluey as you've never seen it before: brought to real life.
Bluey's Big Play comes to the River Center Adler Theatre in Davenport June 14th-15th, 2023 for two days of shows. Tickets are not on sale yet as more details are coming soon.
Bluey's Big Play is presented by BBC Studios and Andrew Kay in association with Windmill Theatre Co.
A Tiny Iowa Town Has A Massive $1.2 Million House You Can Buy
What looks like a beautiful cabin in Wisconsin is actually a massive home in a tiny Eastern Iowa town. The home is on the market for $1.2 million and is located in Calamus. Take a look inside this massive home located in this tiny Iowa town.
Feel Like Royalty? You Can Buy This Actual Illinois Castle For Under $700K
A castle in Chicago is on the market for less than $700k to make you feel like a Midwest princess.