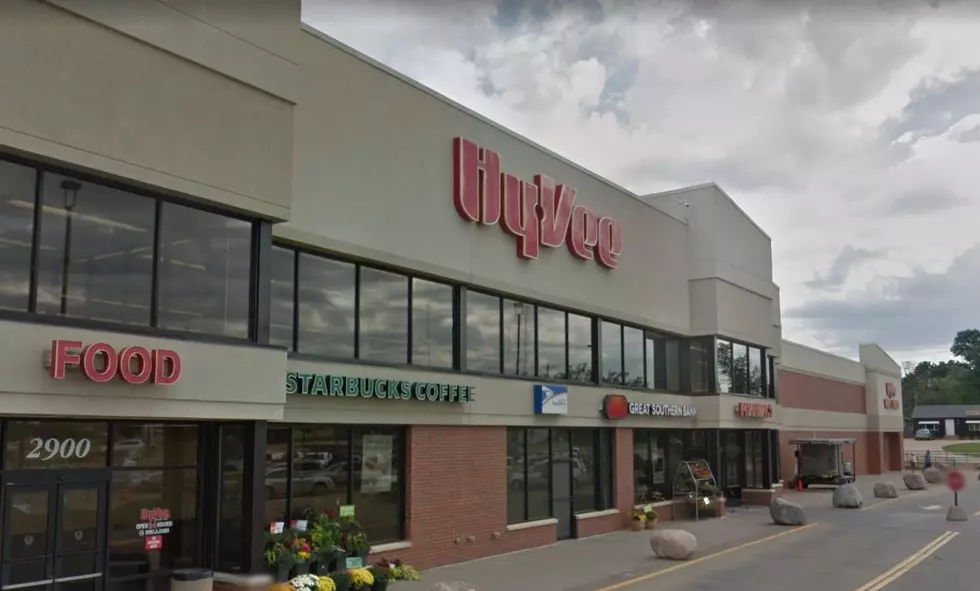 Quad City Hy-Vee Pharmacies Offering COVID-19 Vaccines to Individuals Ages 12-15
Google View
Hy-Vee Pharmacies have been offering free COVID-19 vaccine shots basically since they became available. They have been helping the public become vaccinated against the virus and in a recent announcement, Hy-Vee have begun offering the vaccine to even more people.
In a press release on Thursday, Hy-Vee announced that all Hy-Vee pharmacy locations, including the 11 Hy-Vee Pharmacies in the Quad Cities, are now administering free COVID-19 vaccines to those that are ages 12 to 15. This announcement from Hy-Vee comes after the U.S. Food & Drug Administration (FDA) and Centers for Disease Control and Prevention's (CDC) recently approved the Pfizer-BioNTech vaccine for that age group.
Officials from Hy-Vee say they have been offering the Pfizer-BioNTech vaccine to people 16 and older for several weeks now.
For people who are a minor that want to get the vaccine, they must have parental or guardian consent in order to receive the Pfizer-BioNTech vaccine. Officials from Hy-Vee asks that a parent or guardian accompany minors. Because the Pfizer-BioNTech vaccine requires two shots, a parent or guardian need to be with the minor for both their first and second dose COVID-19 vaccinations.
Anyone who is now 12-years-old and older, can walk in to any Hy-Vee Pharmacy to receive the vaccine, or make an appointment in advance online. Hy-Vee officials say that for those who prefer to make a vaccine appointment in advance, they can by visiting www.hy-vee.com/covidvaccine. You need to select "Find Appointments" and complete the digital vaccine informed consent form and appointment selection.
COVID-19 vaccines at Hy-Vee Pharmacies are free for everyone, regardless of whether they have insurance or Medicare Part B coverage.
Iowa's Island City
There is something unique about every town, but there is really something special about Sabula, IA. Known as "Iowa's Island City," Sabula is the only town in the state of Iowa that is entirely on an island. While not a lot of people have been to, or live in Sabula, it is a quaint little town nestled right on the Mississippi River.
Before we show you around "Iowa's Island City," let me give you the history of Sabula. Sabula was established in 1835,
according History of Jackson County, Iowa, Volume 1 by James Whitcomb Ellis.
Isaac Dorman and a man named Hinkley crossed the river from the Illinois side on a log and decided to settle on what is now Sabula. An Ohio couple, James and Margaret Woods would settle on Sabula about a year later in April of 1836. Their son, Dr. E. A. Woods would purchase Hinkley's interest in the claim. Charles Swan and W. H. Brown would soon purchase Dorman's interest. The three men, Woods, Swan and Brown later had the land plotted in 1837.
According to Island City Harbor's website
, Sabula went through a few names before landing on the official town name. In 1837, Sabula was first called Carrollport. Residents of the town didn't like the name because there was a man's name who was Carroll who had a bad reputation. The town changed its name to Charleston, after early settler Charles Swan. The only issue was that there was already a town called Charleston in Iowa which caused much confusion.
Sabula did not actually become an island until 1939. According to Wikipedia, in the 1930's, the Army Corps of Engineers constructed the lock and dam system. In 1939, Lock and Dam No. 13 between Clinton, IA and Fulton, IL was built which caused the bottomlands west of the town permanently flooded. With the Mississippi River east of the town, this created the "Island City." A levee was built around Sabula in 1957 for protection,
according to Island City Harbor's website
. This also allowed for the south sand pit to be turned into a boat harbor.
I would like to thank my mom Beth, her fiancé Matt, my brother Nolan and my wife Ellie for accompanying me to Sabula. We always have a blast on our trips and this one was no exception.
It's now time to introduce you to Sabula, Iowa, Iowa's Island City.
LOOK: Answers to 30 common COVID-19 vaccine questions
While much is still unknown about the coronavirus and the future, what is known is that the currently available vaccines have gone through all three trial phases and are
safe and effective
. It will be necessary for as many Americans as possible to be vaccinated in order to finally return to some level of pre-pandemic normalcy, and hopefully these 30 answers provided here will help readers get vaccinated as soon they are able.