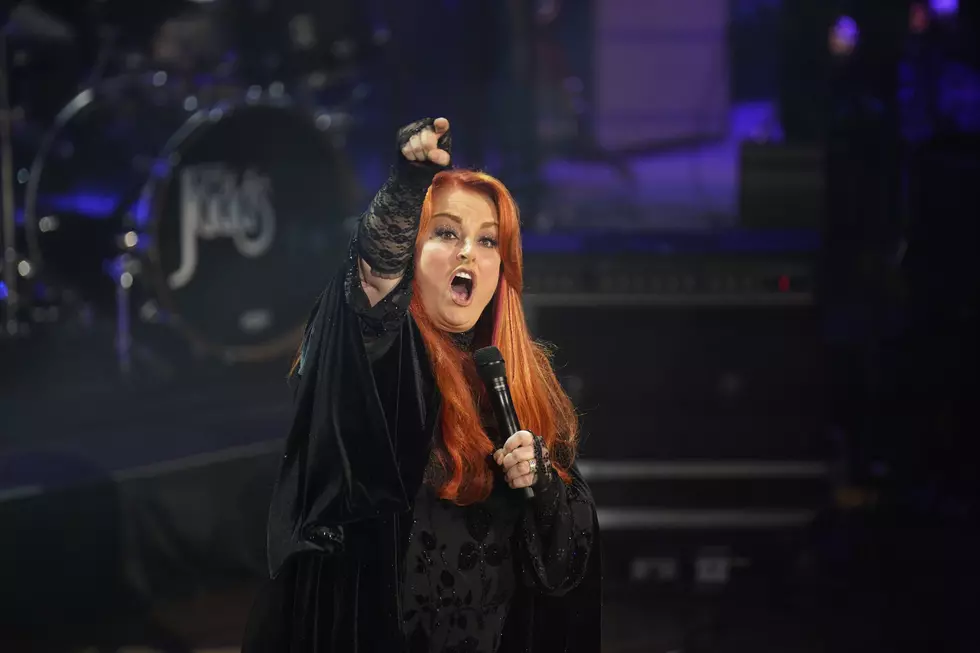 The Judds Tour Announces Special Guests For 2023
Getty Images
Wynonna Judd has announced the special guests for 2023. The Judds: The Final Tour In Celebration Of The Life And Legacy of Naomi Judd has multiple names listed for this show!
Every tour date will have different special guests along with a very special guest, Martina McBride! She will also be returning for all upcoming tour dates.
The Special Guests
Ashley McBryde
Brandi Carlile
Kelsea Ballerini
Little Big Town
Tanya Tucker
That means one of these artists will be a special guest for this iconic show.
About The Judds:
Wynonna and Naomi Judd brought a fresh acoustic sound to country music, with unmistakable harmonies surrounding Wynonna's powerful lead vocals and Naomi's unshakeable creative drive. The Judds are often celebrated for a rarely-interrupted stretch of 14 No. 1 hits when every single of theirs released by RCA landed in the Billboard Top 10; and a career that defined what it means to be individualists in the music business.
The Judds dominated touring in the 80s with 20 Top 10 hits, have sold more than 20 million albums and blazed a trail for duos and women who have followed them. Together, The Judds have 16 Gold, Platinum, and multi-Platinum albums and long-form videos, led by 2x Platinum albums Why Not Me and The Judds Greatest Hits. Their stripped-back style revived the popularity of acoustic sounds in country music and opened up the genre for more traditional approaches.
Tour Dates With Special Guests
Little Big Town will be the special guest for the Quad Cities show.
January 26, 2023 Hershey, PA Giant Center *Ashley McBryde
January 28, 2023 Bridgeport, CT Total Mortgage Arena *Ashley McBryde
January 29, 2023 Worcester, MA DCU Arena *Ashley McBryde
February 2, 2023 Tulsa, OK BOK Center *Kelsea Ballerini
February 3, 2023 Kansas City, MO T-Mobile Center *Kelsea Ballerini
February 4, 2023 St. Louis, MO Chaifetz Arena *Kelsea Ballerini
February 9, 2023 Omaha, NE CHI Health Center Omaha *Little Big Town
February 10, 2023 Moline, IL Vibrant Arena at THE MARK *Little Big Town
February 11, 2023 Dayton, OH Wright State University Nutter Center *Little Big Town
February 16, 2023 Greenville, SC Bon Secours Wellness Arena *Tanya Tucker
February 17, 2023 Fairfax, VA EagleBank Arena *Tanya Tucker
February 18, 2023 Charleston, WV Charleston Coliseum *Tanya Tucker
February 23, 2023 Savannah, GA Enmarket Arena *Brandi Carlile
February 24, 2023 Tampa, FL Amalie Arena *Brandi Carlile
February 25, 2023 Hollywood, FL Hard Rock Live at Seminole Hard Rock Hollywood
Tickets for The Judds: The Final Tour Are On-Sale Now
You can also win tickets today. These additional Dates for "The Judds: The Final Tour In Celebration Of The Life And Legacy of Naomi Judd." This is going to be a beautiful tour to see in the Quad Cities at the Vibrant Arena At The Mark on February 10th.
The 20 Best Meals In The Quad Cities
Are you one of those people who know they want something to eat, but don't know exactly WHAT you want to eat? You know you don't want to stay home and cook, and you know you want to go out to a restaurant, but maybe you don't know exactly what you're craving. Where does one find good food in the Quad Cities?
WORRY NO MORE! We are here to help!
We asked a question on our Facebook page "What is the best meal in the Quad Cities" and many people shared their favorite restaurants and dishes in the comments. We have put together a list of the 20 Best Meals in the Quad Cities so that you can get out and try something new!
These restaurants are a place of good times, great food, and reasonable prices!
Check out all the restaurant's websites by clicking on the green wording!
Have fun scrolling!
100 Interesting Facts About The Quad Cities You May Or May Not Know
The Quad Cities is filled with a very rich history. From inventions to crossing the Mississippi River, to American Presidents and Walt Disney, there are many facts about the Quad Cities that many people do not know. While there are many more stories and facts to share about the Quad Cities, you'll find in these 100 facts that all roads, somehow, lead back to the Quad Cities.