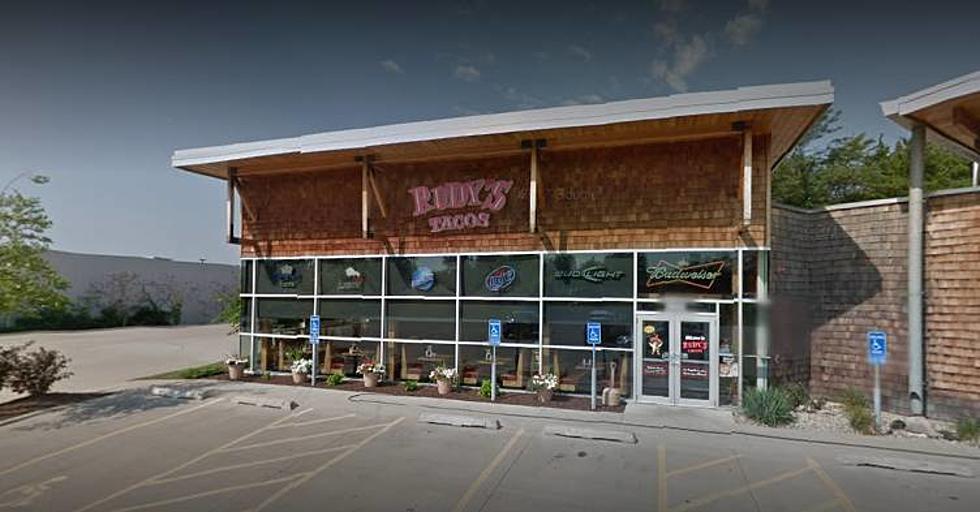 Fire Damages Davenport Rudy's Tacos Overnight
Rudy's Tacos Elmore/Google
A fire broke out at a Quad City area Rudy's Tacos overnight.
Clean-up continues today after fire crews responded to a fire call early Tuesday morning. No injuries have been reported.
According to KWQC, fire crews on the scene say a fire broke out at the Elmore Avenue Rudy's Tacos around 12:55 am. KWQC reports District Fire Chief Neil Gainey said the fire was being fed by a natural gas leak at the back of the building.
The Davenport Fire Department released a statement saying "Crews found a large amount of fire in the rear of the building. Crews were able to contain
the flames until MidAmerican Energy arrived to shut off the gas to the building.
Interior damage was limited due to a building sprinkler system. Fire damage was contained to Rudy's Tacos. Active Endeavors damage was limited to minor water in the storage room.  No injuries were reported. No damage was reported to neighboring buildings.  The cause of the fire is still under investigation."
More details will follow once Davenport Fire investigates. In the meantime, you'll have to go to a different Rudy's to get those all beef burritos, corn shell tacos and margaritas.
Quad Cities Live Music Venues That Aren't Live Music Venues Anymore
Nostalgia Alert!.
We've compiled a quick list (by no means comprehensive) of venues in the Quad Cities that are no longer music venues but to us will ALWAYS hold a special place were we saw some great shows and made some incredible memories.
To many of us the live music scene wasn't just a concert here & there. It was an every weekend affair. And it didn't matter if it was a touring band or your buddy's band. We were going to be there with a beer in hand and scream along with guitars that were way too loud in a room that was improperly treated acoustically and make some bad decisions.
.
Top 10 Highest-Rated Restaurants In Davenport According To Yelp
To determine the top 10 highest-rated restaurants in Davenport, we turn to
Yelp
. Yelp tells us exactly which restaurants in Davenport people think are the best. If you're looking for the best places to eat in Davenport according to ratings and reviews from people in the Quad Cities, this is the list for you.