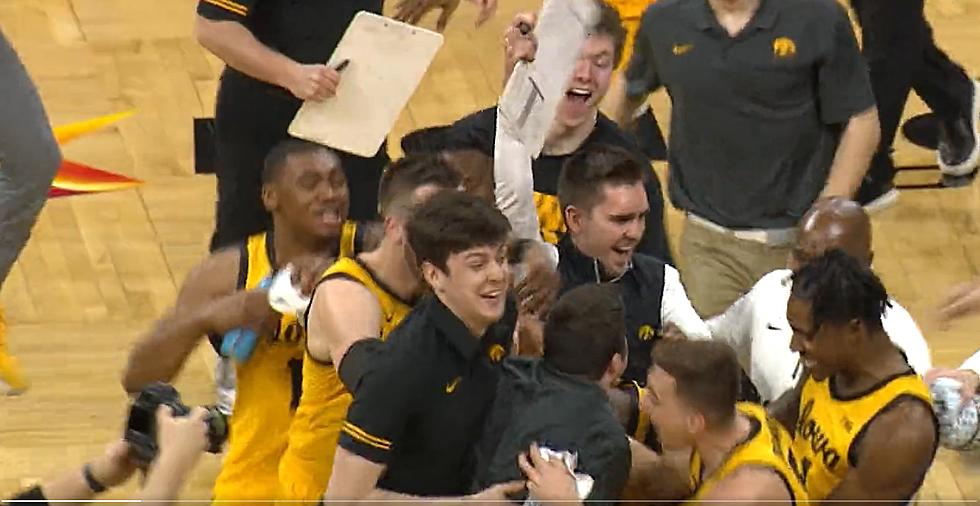 Iowa Hawkeyes Student Manager NAILS Half Court Shot
Iowa Men's Basketball via Twitter
The Iowa Hawkeyes basketball team celebrated senior night on Monday with a win over Northwestern, but it was a student manager who stole the show.
Student manager Jack Devlin was able to take a shot at the net from the half-court line during the game's final media timeout. The first shot's attempt missed by only a little, but the second shot he took at the net sunk through the net. He was mobbed by his teammates immediately.
Devlin has been a manager with the Hawkeyes since 2018, and is part of the university's REACH (Realizing Educational and Career Hopes) program for students 18-25 years old with intellectual, cognitive and learning disabilities.
"I knew as soon as that thing went in, the players were going to go nuts," Fran McCaffery said. "It's just a great feeling for all of us, for someone so special to us."
"We're not even paying attention to the timeout; our student manager is shooting from half-court. It was almost like an open gym," Jordan Bohannon told the Daily Iowan.  What a cool moment for Jack Devlin. He does a lot of work behind the scenes. All of our student managers do. They're some of the hardest working people in all of college basketball."
Jack was featured by the school in a video that explains how he ended up as the team's manager.
We were able to talk with Jack this morning. He talked about the days leading up to the shot, and how nervous he was to shoot the shot that he made look effortless.
$1.1 Million Bettendorf Home Has Awesome Movie Theater, Game Room
A new home is on the market in Bettendorf and it has a lot of amenities and features that will blow your mind. This
$1.175 million home on Andrew Circle
includes a game room, four-car garage, a home movie theater, and so much more. Take a look inside this beautiful Bettendorf home that's for sale.