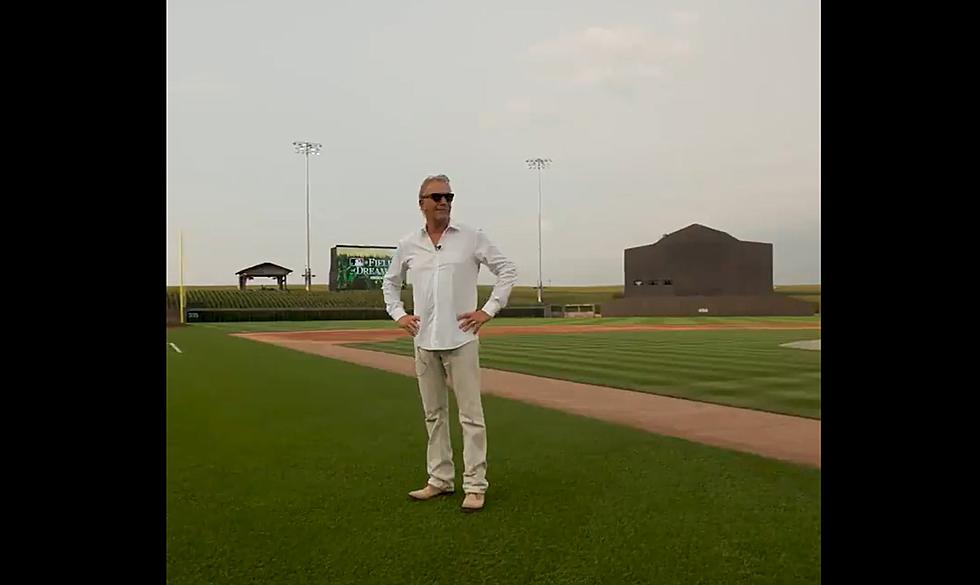 Kevin Costner Says 'Field of Dreams' Site is "Perfect"
MLB via Twitter
It's been long-rumored that Kevin Costner, who played Ray Kinsella in the 1989 film, will be throwing out the first pitch this evening at the Field of Dreams game. The rumors seemed to be true as the actor has made his way to Dyersville.
The MLB Twitter account posted a video of the 66-year-old Costner walking out onto the field for the first time on Wednesday saying, "Wow. It feels perfect. Every bit of it. This is perfect."
At dusk on Wednesday, Costner even played a game of catch in left field as the lights were turned on and the Field of Dreams soundtrack played over the speakers. (Below)
Bob Costas interviewed Costner on the porch swing of the Field of Dreams house. He told Costas that he remembered leaving the field at the conclusion of filming, telling the owners "I wouldn't be a hurry about tearing this field down."
Clarksville High School graduate and American Idol winner, Maddie Poppe, will be performing the National Anthem.
159 acres of corn surround the new field while the field dimensions are 335 feet down the foul lines, 400 feet to center, and 380 feet in the alleys.
Tony La Russa will not manage the White Sox at the game, however. La Russa will attend a family funeral in Florida. Bench coach Miguel Cairo will manage the team against the Yankees. Cairo played for the Iowa Cubs in 1997 and again in 2001.
Urbandale native Pat Hoberg will be calling balls and strikes as the home plate umpire for the game.
LET'S GO: The most popular historic sites in America
KEEP READING: Here are 50 of the most famous sports goofs