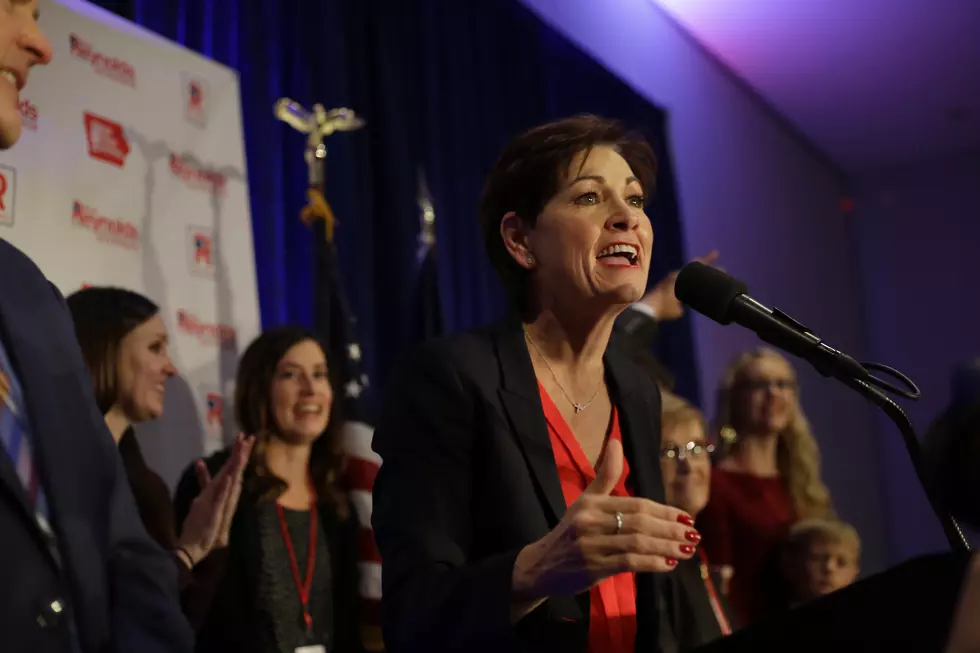 More Businesses In Iowa Able To Open Starting Friday
Getty Images
Governor Kim Reynolds was in our nation's capital on Wednesday which meant no daily press conference to give a COVID-19 update. But to everyone's surprise, she signed a new proclamation that loosens some restrictions and allows some businesses to start to reopen. This even includes businesses in the 22 counties that weren't a part of the first round of loosening restrictions.
The proclamation Gov. Reynolds signed on Wednesday continues the Public Health Disaster Emergency. The extension is set to expire on May 27th at 11:59 p.m. unless shortened or or extended by a new proclamation.
Also in this proclamation, Gov. Kim Reynolds issued changes to policies for the entire state, along with some for the 22 counties which were extended from her earlier proclamation that went through May 15th. Those counties include Allamakee, Benton, Black Hawk, Bremer, Dallas, Des Moines, Dubuque, Fayette, Henry, Iowa, Jasper, Johnson, Linn, Louisa, Marshall, Muscatine, Polk, Poweshiek, Scott, Tama, Washington, and Woodbury counties
The changes in the new proclamation will go into effective at 5:00 a.m. on Friday, May 8th.
Changes coming to the 22 counties listed above, which include Scott, Linn, Johnson, Muscatine, Louisa, Des Moines, Washington, Henry and Dubuque counties, include:
Fitness centers, health clubs, health spas, gyms, and aquatic centers may allow a single person into them at one time on an appointment-only basis.
Enclosed malls will be allowed to reopen, but must limit the number of people allowed inside to 50% of its maximum capacity.

Seating areas and play areas inside the malls must remain closed.
Restaurants and foodservice businesses inside malls may provide carry-out only service.

Other retail establishments may open

This retail stores include bookstores, clothing stores, shoe stores, jewelry stores, luggage stores, cosmetic/beauty/perfume stores, florists, furniture or home furnishing stores, tobacco stores, toy stores, gaming stores, music stores, instrument stores, movie stores, and adult entertainment stores
Those stores may reopen under the same rules allowing only 50% of maximum capacity in the store at once.
Businesses remaining closed in those 22 counties include:
Restaurants and bars
Swimming pools
Salons and barbershops
Libraries
Race tracks
New businesses reopening statewide
Gov. Reynolds' new proclomation will reopen some businesses statewide. Those businesses include:
Campgrounds,
Drive-in movie theaters

cars must be parked at least six feet apart

Tanning facilities
Medical spas
Business remaining closed statewide until May 15th include:
Bars, theaters, casinos and other gaming facilities, social and fraternal clubs, senior citizen centers and adult daycare facilities, amusements (such as bingo, pool, bowling, arcades, amusement parks), museums, aquariums, zoos, skating rinks and skate parks, playgrounds, swimming pools, salons, barbershops, tattoo establishments,and message therapy businesses.

Door-to-door sales remain prohibited.
The 77 counties where restrictions were eased first, the proclamation says that social and fraternal clubs may serve food and beverages but under the same rules that apply to restaurants.
Changes to school start dates
Gov. Reynolds' proclamation also has made changes to the start date for schools for the 2020-2021 academic school year.
She has suspended the rule that prohibits schools from resuming prior to August 23, 2020. This rule only applies if the instructional time that is scheduled before that date is "in excess of the minimum instructional time" of 180 days or 1,080 hours.
The proclamation also makes changes for private instruction. Children who are learning from private instructors do not need to meet with private instructors face-to-face. Children also do not need to take an annual assessment who are learning from private instructors.
Changes to school athletics
The proclamation also suspends the scholarship rule for interscholastic athletics. This means that when athletic competition in schools resume, any student-athlete will be considered academically-eligible. This means that ff a student-athlete would have been required to sit out due to a transfer, the days that a school has been closed by previous proclamations can count toward that required time so that student-athlete is academically-eligible.
Dental services can resume statewide
Dentists will also be able to resume some services on Friday. They can resume as long as they are in compliance with guidance issued by the Iowa Dental Board on May 5th. Dental facilities must also have sufficient stocks of PPE without relying on the state or local public health stockpiles.
KEEP READING: Learning From Mistakes During the Spanish Flu
Enter your number to get our free mobile app