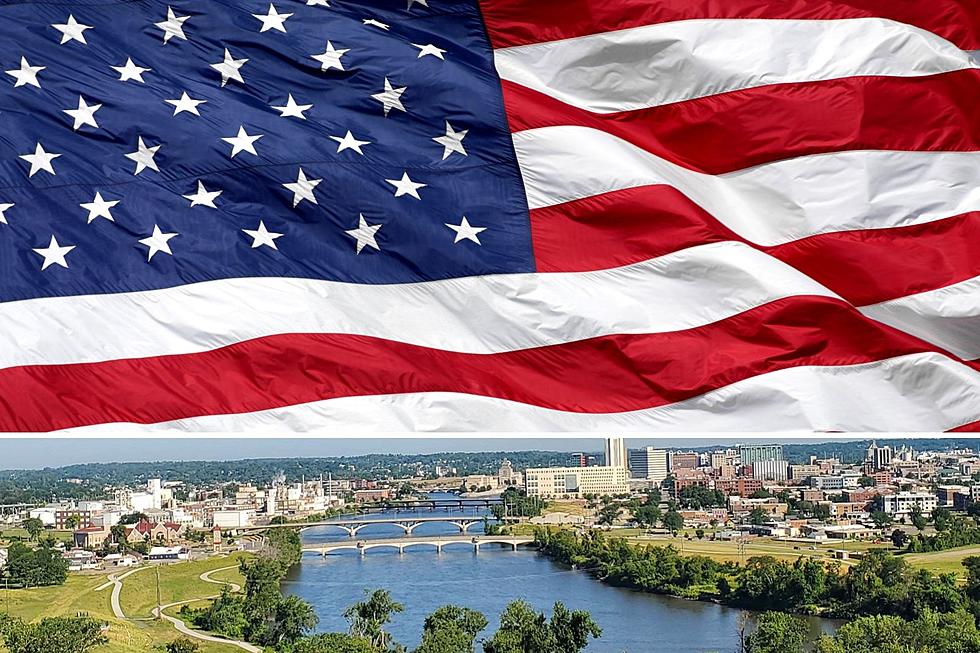 Old Glory Will Soon Be Flying at Cedar Rapids' Highest Point
Bob James/Canva
The Stars and Stripes was adopted as the official flag of the United States on June 14, 1777. There have been many changes over the years, but the American flag has looked as it does today since 1960. It won't be long until the red white and blue will be waving in the wind at Cedar Rapids' highest point.
It's well known that American seamstress Betsy Ross created our nation's first flag. She's represented in the photo below, showing the newly-created flag to President George Washington.
It officially became our flag on June 14, 1777, and while the stripes have remained virtually the same, the stars have multiplied exponentially.
In 1960, the flag got its 50th star. It has remained unchanged since. There's nothing more beautiful than Old Glory, especially with the backdrop of a blue sky.
After a number of years of work behind the scenes, it was revealed Friday that Amvets Post 6 in Cedar Rapids has secured approval to fly the Stars and Stripes over Cedar Rapids. Literally.
A 5' by 8' American flag will be on a 24-foot pole atop Mount Trashmore in Cedar Rapids. That's about as high as the FAA (Federal Aviation Administration) is going to let you go when you consider it's the highest spot in the city... some 948 feet above sea level. The location also provides incredible views of Cedar Rapids.
Plans call for construction to begin in May with a goal of the first flag raising on Flag Day, Wednesday, June 14. If plans come together as hoped, there will be a flag raising in downtown Cedar Rapids and on the top of Mount Trashmore at the same time that morning.
Vintage Cedar Rapids Postcards Show Us City's Amazing Past
Take a look through some historic postcards of Cedar Rapids. Enjoy this trip back in time.
A Look Back at Lindale Plaza in Cedar Rapids
Lindale Plaza opened on Cedar Rapids' northeast side in 1960. Two decades later the plaza area was enclosed, resulting in Lindale Mall.