The Quad Cities' Favorite "Trashy" Beers Are…
Getty Images
Friday, August 6, 2021, is International Beer Day. People over the age of 21 will be celebrating today throughout the Quad Cities by drinking some of their favorite brews. Whether that's a domestic beer, an IPA, a stout, people will be drinking beer today. Plus, with the Mississippi Valley Fair going on, a lot of beer will be consumed on this International Beer Day.
A new study has come out showing each state's favorite "trashy" beers. Personally, I'm offended this study is calling them trash considering most of these beers are the highest-selling beer brands in the world, and I'm an avid Coors Light drinker. When this study says trashy beers, that's their way of saying domestic beers.
Which domestic beer is the favorite of the Quad Cities? That depends on which side of the river you live on.
On this International Beer Day, a new study has come out showing each state's favorite "trashy" beer. Trashy equals domestic in this study done by Workshopedia.
To find out each state's favorite domestic (trashy) beer, Workshopedia turned to online search interest. They started with a list of 36 popular beers and recorded Google Trends search interest over the last 12 months for each of the 50 states and the District of Columbia.
Workshopedia determined clear winners for which beer each state searched for the most, the most popular beer overall, and how many states the most popular beers won in.
This is what they found.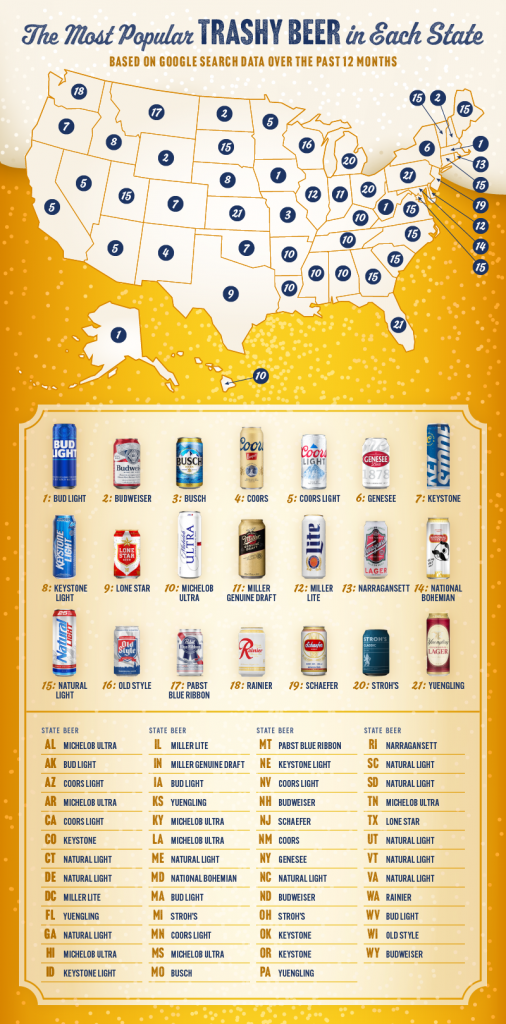 According to Workshopedia, depending on what side of the Mississippi River you're on, depends on your favorite domestic beer. First of all, I think this study got Iowa all wrong because Iowa is Busch Light country.
Anyway, Workshopedia found that Iowa's favorite domestic beer is Bud Light. Illinois' favorite domestic beer is Miller Light.
Now, here is where I can understand the "trashy" beer part of this study. The #1 favorite "trashy" beer in the U.S., according to Workshopedia, is Natural Light, aka Natty Light. The 2nd most popular "trashy" beer in the U.S. is Michelob Ultra, and Bud Light came in 3rd.
I think we can all agree that after reading this study, it's time to celebrate International Beer Day with a cold beer. Cheers!
Iowa's Second Oldest Bar
Frick's Tap on West 3rd St in Davenport is Iowa's second oldest bar. Cold beer, great service and a heated bar. What more could you ask for?!
LOOK: Here are the best lake towns to live in
Many of the included towns jump out at the casual observer as popular summer-rental spots--the Ozarks' Branson, Missouri, or Arizona's Lake Havasu--it might surprise you to dive deeper into some quality-of-life offerings beyond the beach and vacation homes. You'll likely pick up some knowledge from a wide range of Americana: one of the last remaining 1950s-style drive-ins in the Midwest; a Florida town that started as a Civil War veteran retirement area; an island boasting some of the country's top public schools and wealth-earners right in the middle of a lake between Seattle and Bellevue; and even a California town containing much more than Johnny Cash's prison blues.