Davenport PD Claims They Can Run Faster Moline Police
rihardzz
The QC Crime Stoppers 5K is coming up on Saturday, October 9th. People can participate in the 5K with police officers from the area, including Davenport and Moline police officers. Ahead of October 9th's race, the Davenport Police Department is throwing a little shade towards Moline officers for a little social media fun.
The QC Crime Stoppers 5K is taking place in Moline on Saturday, October 9. The race starts at 5 p.m in downtown Moline at Bass Street Landing. The 5K course will head West on River drive to 1st Street and back on the bike path. The 1-mile course is out and back on River Drive from Bass Street Landing. For the kiddos wanting to participate, the kids' races start at 6 p.m.
Before next Saturday's race, the Davenport Police Department took to social media to help promote the fundraising event. In their social media post, they essentially called the Moline Police Department slower than Davenport PD.
Davenport Police posted on social media,
"Come run with (not from) the cops at the QC Crime Stoppers 5K on October 9th at 5 PM in downtown Moline!! If running isn't your thing, register, walk, and watch Davenport's finest outrun Moline Police Department's finest! "
Yes, the dig from the Davenport Police Department to the Moline Department is all in good fun because this run is for a great cause. And maybe we used that dig to help spread the word about the QC Crime Stoppers 5K...
The QC Crime Stoppers 5K is a fundraiser to help Crime Stoppers of the Quad Cities raise money to fight crime in the Quad Cities. These funds will help apprehend the most dangerous criminals and raise funds to support the P3 anonymous tipping app.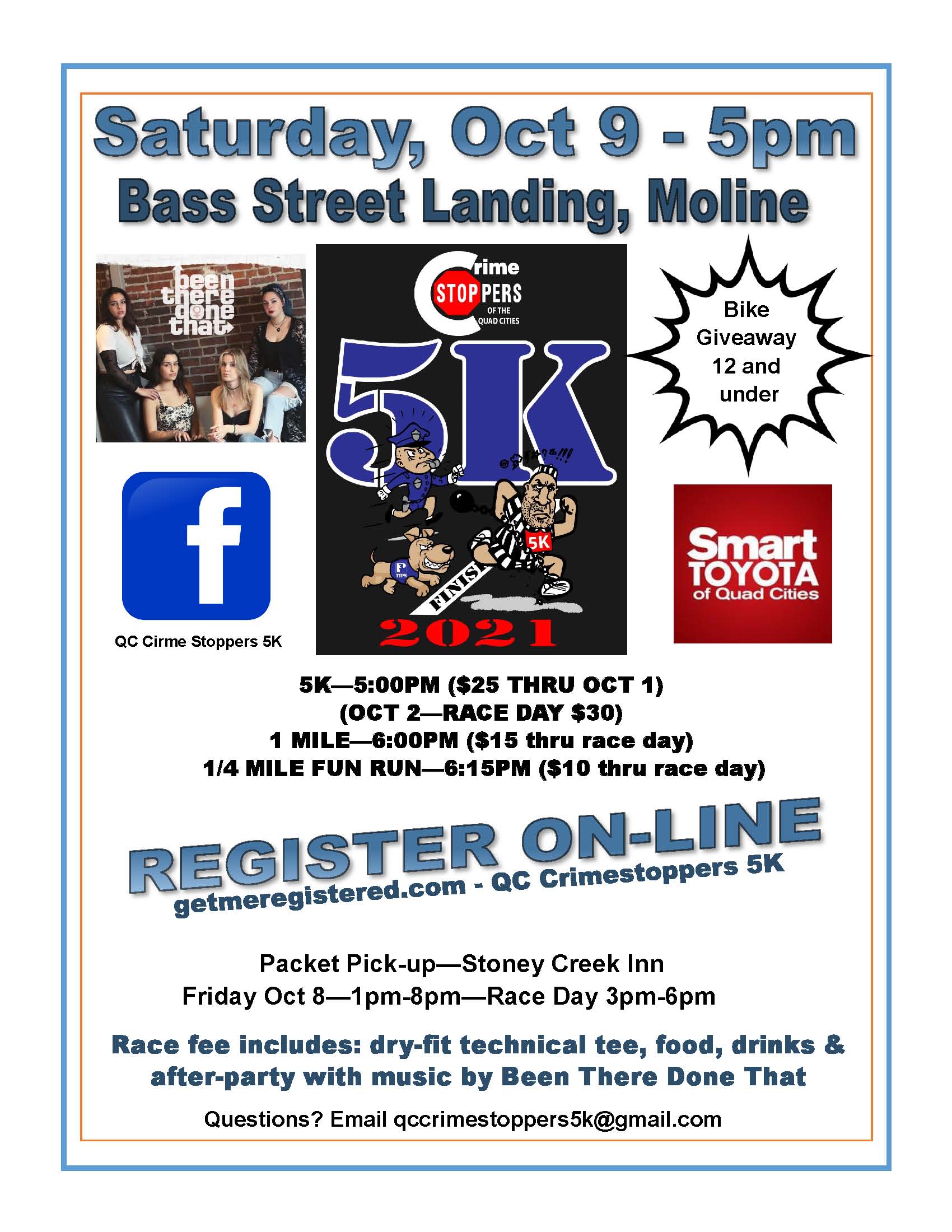 Registration for the 5K is $25 for early registration ($30 after Oct. 2), the 1-mile run is $15, and the 1/4 mile fun run is $10. Bikes for kids will be raffled off and there will be tee-shirts, trophies, medals, food, drinks, and post-race music by the band Been There Done That.
You can register for the QC Crime Stoppers 5K by clicking here.
Happy Joe's Davenport Home
A Davenport home is for sale that was owned by a Quad Cities icon. Joe Whitty, also known as Happy Joe, passed away in October of 2019. His $1.195 million Davenport home is for sale and it could be yours. With 3 bedrooms, 4 baths, and 25 acres of land, this home will make you happy like Happy Joe.
MORE: Some of the Memes & Tweets That Have Made Us Laugh (and Maybe Think)